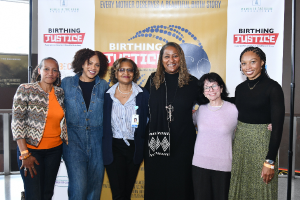 (L-R: Denise Pines, Executive Producer; Monique Matthews, Co-Writer/Director; Dr. Elaine Batchlor; Supervisor Holly J. Mitchell; Jacoba Atlas, Co-Writer/Executive Producer; Allyson Felix, Executive Producer). Photo credit – Joan Fuller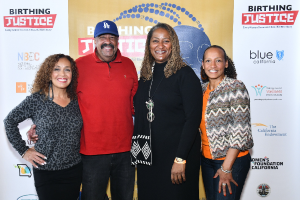 (l-r – Dominque DiPrima, Host, KBLA Talk Radio 1580-AM; Dr. Robert Ross, CEO, The California Endowment; Los Angeles County Supervisor Holly J. Mitchell; Denise Pines, Executive Producer, Birthing Justice) – Photo credit Joan Fuller
Panel discussion at Birthing Justice screening (l-r Dr. Elaine Batchlor, Allyson Felix, Los Angeles County Supervisor Holly J. Mitchell, and moderator Dominique DiPrima). Photo credit – Joan Fuller
We should care about every woman, and I think you know a Black woman's pain, a black woman's suffering gets discarded. It cannot go on that way. It's crucial that we pay attention."
— Allyson Felix, 11x Olympic Champion
LOS ANGELES, CA, UNITED STATES, January 9, 2023 /EINPresswire.com/ — A capacity crowd gathered at the Cinemark Theater in West Los Angeles on January 5, 2023 for the premiere screening of Birthing Justice, a feature length documentary discussing the issues fueling the maternal health crisis within the African American community and advocating for best practices to enhance birthing equity for all women, especially Black women. The event featured a mindfulness moment, led by yogi and spiritual teacher Raea Brauer and included a panel discussion with 11-time Olympic Champion Allyson Felix, Los Angeles County Supervisor Holly J. Mitchell and Martin Luther King Community Hospital President, Dr. Elaine Batchlor, all of whom are featured in the film, moderated by KBLA 1580-AM Talk Radio host, Dominique DiPrima.
The panel discussion touched on many of the major points in the film, including implicit racial bias, the lack of African American medical professionals and subsequent reduction of African American medical schools after the Flexner Report as well as how women of color have improved birthing outcomes through treatment by black and brown health care professionals. In addition to physicians, the documentary points out the benefits of doulas and midwives as part of the birth experience.
Monique Matthews, who co-wrote and directed the film, believes that this is a story that needs to be told, as many black women have suffered miscarriages, infant mortality as well as their own mortality due to lack of resources, health disparities and minority professionals. Black women are 4x more likely to die of childbirth complications than white women. Source: https://www.cdc.gov/nchs/data/hestat/maternal-mortality/2020/maternal-mortality-rates-2020.htm#Table. "We wanted to show how widespread the problem is, but also show what is being done to combat this crisis—and the efforts being made to bring more joy into the birthing process for women of color."
Says Allyson Felix, "We should care about every woman, and I think you know a Black woman's pain a black woman's suffering gets discarded. It cannot go on that way. It's crucial that we pay attention. We do more than see statistics but understand how we go about fixing the issue. It starts at the core with Black woman. We are at the center of it all and we deserve to be heard, we're worthy and it's about time that you know others step up and stand alongside us as we fight this issue."
Dr. Elaine Batchlor states, "I think that my personal experiences as a black woman definitely shapes how I view healthcare and my aspirations for the healthcare that we deliver and my commitment to giving our patients the best possible healthcare. Everyone deserves the best healthcare. Everyone deserves to be treated with respect and compassion. And that's why I went into medicine because I believe that. And we need to stand up for ourselves and demand that."
Supervisor Holly Mitchell furthers, "We talk about equity. It's acknowledging that there was a huge region that didn't have some of those core fundamental public benefits. A hospital. A health clinic system …That's equity versus equality. I think COVID has pulled off the blinders for the entire world to acknowledge that we have massive, massive inequalities in our county, in our state, in our country and now we have an opportunity, and a responsibility to fix that."
Birthing Justice screenings are taking place across the country. For more information or to find out how to host a screening, please visit the website to complete and submit a request form.
Sponsors and partners for the January 5th screening include Supervisor Holly J. Mitchell, Blue Shield of California, The California Wellness Foundation, The California Endowment, The National Birth Equity Collaborative, W.K. Kellogg Foundation, Robert Wood Johnson Foundation, the Meadow Fund, the Missouri Foundation for Health and Grantmakers for Girls of Color.
Ginger Campbell
SNAP Productions, Inc.
+1 213-760-7414
email us here
Visit us on social media:
Facebook
Instagram
TikTok